During the month of love, when everyone's attention is focused on matters of the heart, All Romance eBooks (ARe) is helping to fight the number one killer of women, heart disease, with their 28 Days of Heart campaign.
Beginning February 1, 2010, ARe, the digital bookseller that owns All Romance (
http://www.allromance.com/
) and OmniLit (
http://www.omnilit.com/
), will release one new novella per day for twenty-eight consecutive days. All proceeds from the sale of these shorts, which will be offered exclusively on AllRomance.com and OmniLit.com as individual eBooks, will be donated to the
American Heart Association
.
The stories cover all the genres, from Gay to Interracial, Paranormal to Historical, Contemporary to Sci Fi. They were generously donated by both best selling and up-andcoming authors from some of your favorite publishers including Kensington, Berkley, Pocket, St. Martin's Press, Ellora's Cave, Cerridwen, Samhain, Total E Bound, Loose Id, Phaze, Liquid Silver, Torquere Press, Siren, Amber Quill and more!
The stories range between 10,000 and 20,000 words, so they are a perfect sweet (or more accurately spicy) Valentine treat. Each includes a forward by author
Charlaine Harris
(of True Blood fame) as a show of support for the charity the stories will benefit. Indulge yourself this year for Valentines Day—enjoy one of each, and know you are helping a worthy cause at the same time.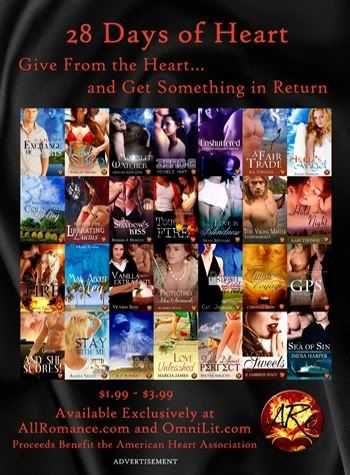 I'll be posting the blurb of each book on the day it's released to help your shopping. There's also a 28 Days of Heart Blog Tour going on and they are:
Wicked, Whimsical, and Random
[2/3]
Dark Ice Goddess' Musings
[2/3]
Selena Illyria's Thoughts
[2/3]
Savannah Chase
[2/4]
Daily Dose
[2/10]
Romantic Inks
[2/15]
Virginia Romance
[2/20]
Leigh Wants Food
[2/22]
International Heat
Kiss and Tell
...and some here on the Hot Thoughts Blog! The dates in brackets are when I'm there - sharing some bits and pieces about "
And She Scores
", which releases on 2/22, although you can pre-order it now and then it will be delivered to your library on the day it's released - so cool.
So, are you ready for serious heat and hearts? You better be, because it's all about to start. Don't forget, all proceeds go to benefit the
American Heart Association
.