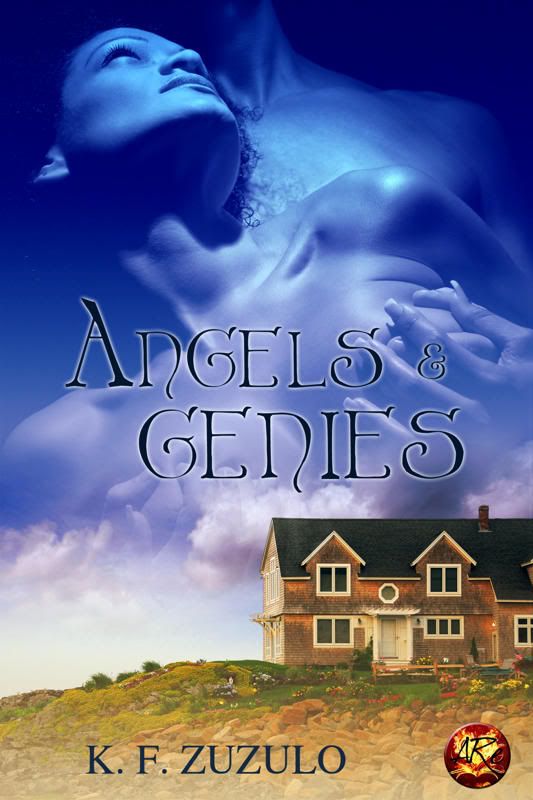 My husband makes my heart beat. Smart heroes with a tender side. And genies. They're powerful, captivating, and mysterious. Along with all those great traits and some mystical skills—which can actually be heart-stopping—genies have feelings, too. I write romance novels about genies and despite the paranormal aspect, genies get under your skin (literally) because they're not afraid to show their emotions. The emotions aren't always warm and fuzzy, or hot and titillating. They can be vengeful, angry and ferocious and, if well written, will get your blood rushing.
The novella I wrote for ARe's 28 Days of Heart is called Angels & Genies and introduces genie Match Ramsey, who gets the blood rushing in teacher-turned-realtor Angeline Delaire. Match and his surfer-dude angel sidekick Miguel seek to block the entrance of evil jinni Iblis to the earthly realm. Angeline holds the key to the sought portal. The only hint I'll give is—as any realtor will tell you—it's all about location, location, location. But the real story is the conflict Angeline feels—about herself, her career, and Match. That's where the emotion is. It's also in the awareness Match increasingly feels that he'd do anything to help her.
This book, as well all the books being sold as part of ARe's campaign, has an extra dose of emotion because of its intention…to help raise money and awareness of heart disease in women. So, check them out! You'll be getting a healthy helping of intrigue, passion, and romance, plus you'll be helping out. That's where the heart is.
What makes your heart beat?
You can learn about K. F. Zuzulo, her books, and the romance of the jinn at her website,
http://www.kfzuzulo.com/
.
Angels & Genies will be available from
All Romance eBooks
on February 24th.
* * *
Buy this and any other 28 Days of Heart eBooks from
ARe
or
OmniLit
and all proceeds go to the
American Heart Association
. You can preorder and a copy will be delivered into your library on release day!