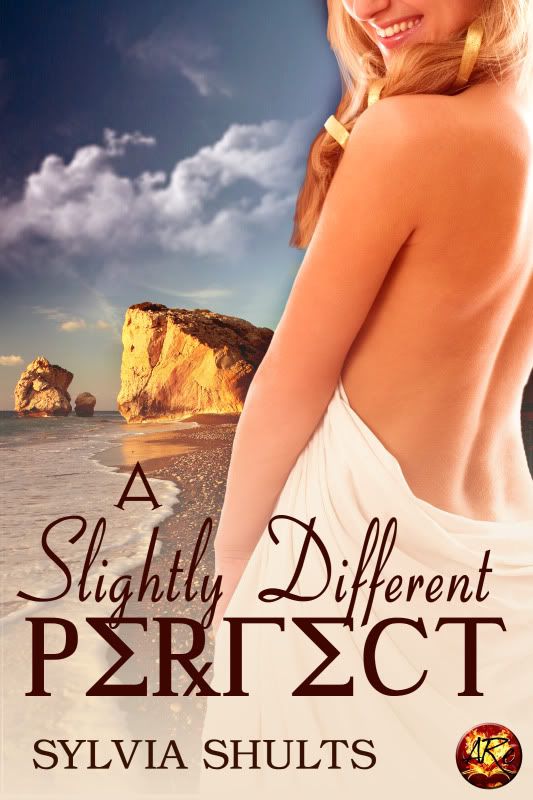 Hi there! Sylvia Shults here, the author of A Slightly Different Perfect. I've been asked to write a bit of a blog here, and my lovely hostess has been kind enough to invite me to write on any topic I choose. When she threw that out there, of course I was delighted. Any topic, hmm? Oh, the possibilities! And of course that got me to daydreaming, and of course THAT led to my blog post, which I've entitled "What Superpower Would I Want?"
If I could have any superpower in the world, I'd choose time travel. I wouldn't want to change anything, I'd just like to go hang out. And the first time I'd go to would be back to the late eighties. There was so much great music on the radio then. I wouldn't have to bother with picking out CDs, I'd just turn on the radio. I'd go visit myself in college, I'd arrange to meet myself at one of the weekend frat parties, and I'd try to convince myself that drinking half a gallon of RC cola and sloe gin is NOT a good idea. "I know, honey, it'll make for a GREAT story when you get older, but you are going to hate yourself in the morning. And you'll never, ever be able to drink sloe gin again. Ever." I would also try to talk myself out of sleeping with That One Guy, the one who took my virginity and turned out to be a complete douche. I don't know if it would work, but I would try my best to convince myself to wait just a couple of short weeks for the next one. "Trust me on this one, Self! Please!" (Okay, I guess there are a few things I'd try to change.) And of course my time machine would have to be my car. That way I could fill up with cheapo gas before I left the eighties to come back home. Yep, that would pretty much be the perfect first trip back in time.
I've always been drawn to humorous romance, the goofier the story, the better. I figured this story would be perfect for a fundraiser celebrating the heart and all its quirks. What better way to nurture the heart than to write a story about the goddess of Love? A Slightly Different Perfect is the story of a mousy fifth grade teacher, Trisha Gillespie, who gets turned into the goddess of love Aphrodite. In her new incarnation, she learns a valuable lesson about the price and the rewards of true love.
I'd be very pleased if you'd visit me at my website,
http://www.sylviashults.com/
, or become a fan of my Facebook page, which I've called Sparkleheart. I hope you enjoy A Slightly Different Perfect, and I do appreciate your support of the American Heart Association. See, my mom's got heart disease – she had a heart attack a couple of years ago and had to have a stent put in – so this really is a cause that I support for personal reasons. Enjoy the story, support the AHA, and Goddess bless.
* * *
Buy this and any other 28 Days of Heart eBooks from
ARe
or
OmniLit
and all proceeds go to the
American Heart Association
. You can preorder and a copy will be delivered into your library on release day!