"Life took a turn one day while sitting in the back of the school bus with her friends: she was introduced to the joys of romance novels and has never looked back."
That is a quote from my biography as an author of erotic romances and that book was
Sweet Savage Love
by
Rosemary Rogers
. From there, I jumped in as a reader, and haven't looked back. However, while my roots in reading romances is based in the historical subgenre, I have not bought one from a new author in years, if not decades.
Sabrina Jeffries
,
Suzanne Enoch
and
Stephanie Laurens
were the last additions to my historical romance must read authors.
Historical romances also bred my pleasure for reading a series - although there are some personal parameters I have built up over the years to do this without going crazy.
Johanna Lindsey
, one of my first and favorite historical romance authors, started the Malory family with
Love Only Once
, and is still bringing writing about them. [
That Perfect Someone
is being released June 15 - goodie!] Some readers have problems with reading an ongoing series and it may have to do with what we are all looking for when we open the cover. For me, reading is pure entertainment. I don't want to analyze or work my way through the book or a number of books for a satisfactory end. If done right, each book ends on the right note for that particular couple, and I'll look forward to visiting that world again.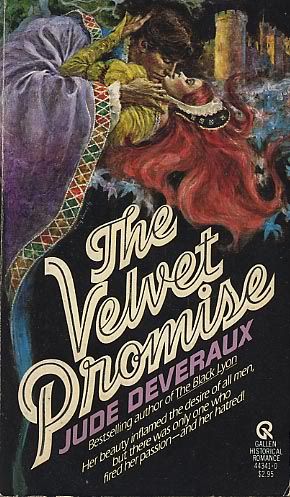 Another part of historical romances I've always enjoyed are the covers, specifically those drawn [like
The Velvet Promise
by
Jude Deveraux
, cover art by
Harry Bennet
]. The notorious clinch never bothered me, bland covers do. And, it is very disturbing when the characters in the story have no physical similarities to the ones on the cover. That could turn me away from buying that author again, so be careful publishers, covers do matter.
Back in those first days, I read everything from Lindsey and Deveraux as well as
Laurie McBain
and
Kathleen E. Woodiwiss
, and another habit was born. When I find an author I like, I will buy and read everything they write. If I read a story I didn't care for, I don't hold a grudge and will keep reading. That said, there has been one author I dropped from my automatic buy list because they stopped writing historicals and I didn't enjoy their contemporaries.
There you go, my introduction to romances was historical, and remains my favorite. Now, with that information in mind, it shouldn't surprise anyone that I have not delved into the subgenre as an author. I'm sure intimidation plays a large part of this.
Oh, one last thing, a big disappointment for me is that none of these authors older titles are available as ebooks. Shame really, I know I'd buy them so I could read them anywhere, not just where my keepers are kept.