While the Cannes film festival was going on in southern France, I was keeping my eyes opened for some fabulous fashion statements, and found a word or two, but no statements. There was no joy on the other side of Cannes: the films.

It wasn't their fault, if you visit the official website you'll notice they actually took part in all sorts of social media, which probably worked for them - it just never filted through to me. Now, I did hear [on NPR] that Tim Burton was President of the Jury, and shall look for a theater showing the film that won the Palme d'Or [Uncle Boonmee Who Can Recall His Past Lives by Thai director Apichatpong Weerasethakul].

Okay, Cannes failed on the movies and fashion extravaganza, so where was my love for both fed? Now that we're members of Netflix, I can watch some films right on my laptop, and that's what I did to get a bit of fashion and flicks.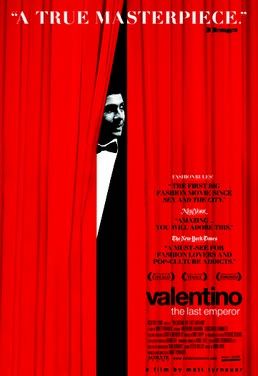 First up was Valentino: The Last Emperor. It's a documentary and showed how cruel the business truly can be. However, it was much more than that, and the scenes between Giancarlo Giammetti and Valentino were my favorites. These two have known, loved, and worked side by side for 45 years, and made it look easy. I didn't learn anything new, but did see inside the various homes of Valentino, saw a hint of the monumental workload the seamstresses who stich everything by hand on those fabulous Haute Couture gowns carry, and then there was a peak at Valentino's incredible retrospective was wonderful. I cried a couple of times, laughed a few others [one of the pug's getting his teeth vigorously brushed], and even cringed at the occassional ego outburst. The end result: I really enjoyed the 90 minutes and wanted more fashion.



Next, I watched The September Issue, another documentary that looks at what it takes to put out an issue of Vogye. Now, I never read or saw The Devil Wears Prada [supposedly about Anna Wintour] so had no opinion of her, although I do know of her reputation. Is she a bitch? No, from what I saw she was a desicive decision maker who wasted no time in getting things done. Fine and dandy. In the end, the film opens with 5 months before the close of the September Issue, the largest of the year. Ultimately, it was a fascinating look into how the pages of a magazine are created from conceptual to final product. One of the more interesting things is that I remember reading this issue and as I saw the various spreads, remembered my opinions of them, and realized I may not wanted to have known how the pictures are chosen - or not chosen. Ever read a magazine and wished a spread had been longer or shorter? You'll understand that particular issue more after seeing this flick. The politics in the fashion industry are ugly and necessary, although maybe not to the extent they are currently - no one person should be claimed a leader of fashion trends. Anyway, the end result: Another well spent 90 minutes!

By the way, a uniquely creative fashion editor, Grace Coddington [one of the more interesting people in the film] gave some sound advice, no matter who you are: Keep your eyes open because you never know what will inspire you.

I like that, maybe because I do it.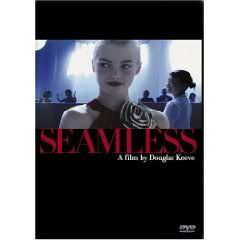 UPDATED: A fiscal award, from Vogue and CFDA, was mentioned in The September Issue and I found a documentary on Netflix that follows three candidates seeking the first one. It's called Seamless and while I don't like the way the camera moves around, I like this one. Yes, more fashion, but like many things, all three films have been connected and if you have an afternoon to while away on 7th Avenue only can't make it to NYC, try it this way - relaxed and in your own space.

By the way, I was rooting for Doo.Ri and Cloak, and I won't spoil it by telling you who won, but I will suggest you watch to the end to see what happened to the ten finalists.