If you are thinking of visiting England, after seeing some of the sites in London, I suggest you escape the chaos of city life, which can be found everywhere, and head north!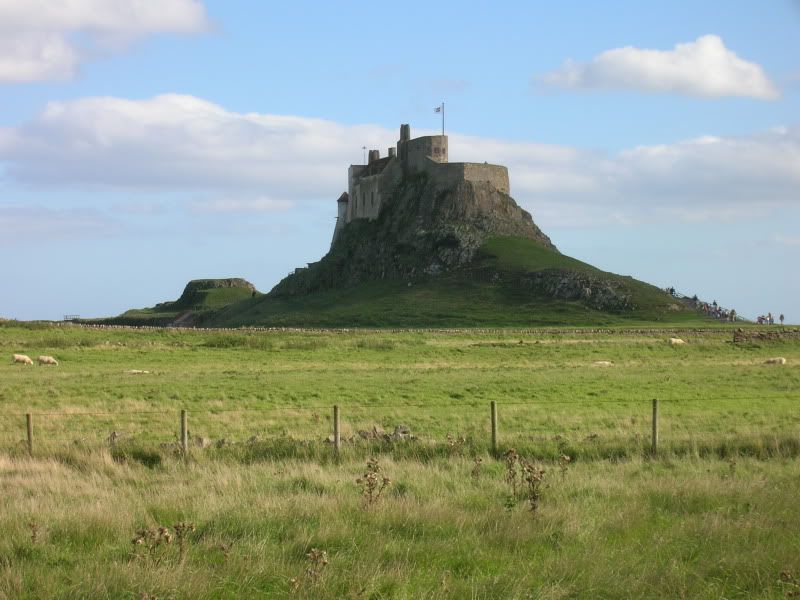 Lindisfarne
, or Holy Island, is across the bay from Bamburgh and can only be reached when the tide is out . It is a small island and is a nature reserve and rich in history with a castle, ruined monastary/museum, and the island is known for their mead. So, if you're a fan of the Celts and celtic books, this is a must visit place.
Now, head south, and you'll land in the place lovers of Vampires books and movies should visit,
Whitby
.
Why? Because this is the place Irish author,
Bram Stoker
, holidayed during summer breaks and also has brought loads of interesting local tidbits into
Dracula
.
Everytime but one [the rain won out on that visit] we've climbed the stairs from town up to the abbey and afterwards, never remember if it was 199 or 198. I think the first step is a dubious one at a couple inches.
Now, Fish & Chips can be found all across England, but smoked kippers from
Fortunes
are a must do and they are limited in their opening times so head there immediately. I happen to eat nothing that exists in the water [and yet I love visiting England's coastal gems], but my cutie does and grew up not too far from here. He makes a point to stop for a couple kippers from this place for breakfast.
St Mary's Church
is another gem to visit in Whitby and make sure to walk through the graveyard - it's sad when you realize how many are for very young and a few empty ones give you a spooky feeling.
Have a seafaring fan in the house? Then a little further south from Whitby is
Staithes
, hometown of
Captain James Cook
, and it is definitely worth checking out as well.
A village that is the ultimate definition of small village life [parking up on the hill and walk down to the homes]. This is where it is said the man who would go on to chart Hawaii amongst other places became enamored with exploring the seas.
That is just a tiny portion of what can be seen and experienced in the North of England. The history is deep [don't forget about the
War of the Roses
] at every turn and plenty of literary / artistic [
Henry Moore
has a fabulous museum in Leeds and the
Yorkshire Sculpture Park
, 500 acres of parkland is near Wakefield] influences to keep everyone eager for what's next.
So, yes, the new Robin Hood film looks good, but every promo I see makes me think about all the other fabulousness that can be found around northern England.
One last thing, because I love this part of England and there is that bit about writing what you know, I've also used it in my own books. You can find the North of England in
The Gilded Cage
/
Hot Couture
[Leeds] and the newly released
My Angel
[Leeds and Knaresborough].