Something funny happened on the way to RT Booklovers Convention - I had nothing to read on the plane and, even though I was going to a mainly romance book convention, I bought a suspense. Not only that, I bought one from the bestseller list, which I usually use as what not to buy.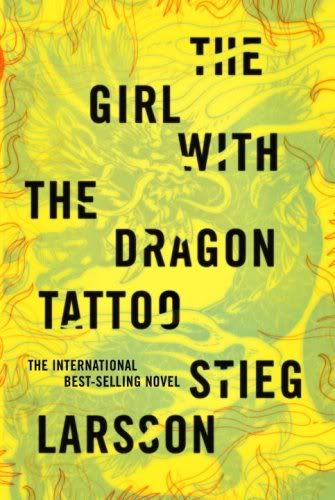 Anyway, I ended up with
The Girl Who Played with Fire
by Stieg Larsson, and didn't want to put it down - devored about 100 pages while at the convention. In fact, it was so good, by the time I made it home, I went out and picked up the first book - yup, I made the mistake of starting with the 2nd book in his trilogy [the 3rd and final book is
The Girl Who Kicked the Hornet's Nest
]. Hate doing that, but I'll wait until my next break, and then start with
The Girl with the Dragon Tattoo
[book 1]. From that point on, I'll read the trilogy in order [made even easier because they are available in ebook]. On a side note, I've been told if I can find the Sweedish version of the movie I should see it - and, loving the series so much, I'm not sure I can pass it up.
Other recent book purchases have been
Sizzling Sixteen
by Janet Evanovich and because it isn't out for another month, added
Major Pettigrew's Last Stand
by Helen Simonson for my mom. And, for sister-in-law's birthday [who lives in England and is a mystery reader who shares with her Dad, another big reader], we bought
The Redbreast
by Jo Nesbø,
Carte Blanche
by Carlo Lucarelli and
The Girl with the Dragon Tattoo
by Larsson.
There are some really good books/ebooks out there and I very strongly suggest you watch this space throughout June :-)