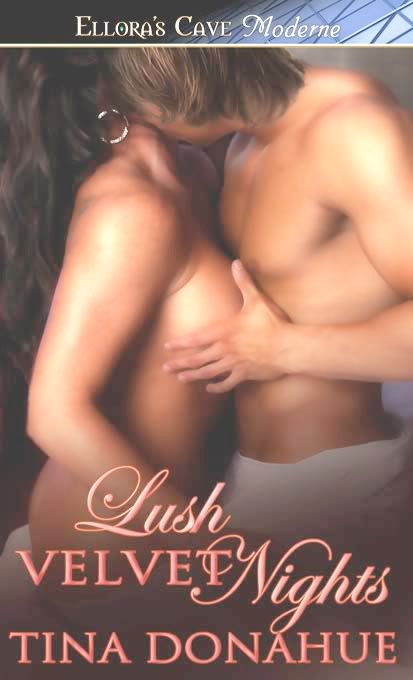 Lush Velvet Nights by Tina Donahue
Buy eBook from Ellora's Cave
Contemporary Erotic Romance

Reviewer's TOP PICK – the Pagan and the Pen
FIVE ANGELS – Fallen Angel Reviews
Four blossoms – a page turner – Book Junkie

When wanton desires and love demand all…

During the day, Adriana's a lonely corporate heiress, helming a supermarket empire. At night, she hires escorts, scripting provocative fantasies of kidnapping, lust, submission and endless longing. It's all she has to excite her until she meets Nathan Wynn.

Tall, blond and muscular—like a modern-day Viking—Nathan is a labor relations attorney representing Adriana's union employees. His imposing presence intensifies her basest desires. When he protects her from an escort he believes is an attacker, she knows he's wonderfully dominant and unrestrained.

Fascinated by Adriana's underlying sensuality, Nathan brings her to his secluded mountain estate, determined she submit fully to his hunger. At a gentleman's club, he makes certain she denies him nothing. Engaging in a seductive sexual journey, Nathan's caught off-guard by his stunning need for Adriana—and a growing emotional connection she will not let him deny.

Excerpt
(In this scene, Nathan & Adriana have arrived at his mountain estate where he plans to teach her full submission to his carnal desires)

He brought her to the edge of the thick wool rug facing the hearth. Even after he'd lowered Adriana to her feet, she clung to him. Nathan knew her desire for closeness drove part of her reaction. Not knowing what to expect from him also played into her response.

Focused on her accelerating anticipation, he left her side with one order. "Stay there."

In his peripheral vision, he checked to make certain she hadn't moved. He padded to their pile of clothing, selecting his tie and her blouse for his coming scheme. On a whim, he lifted her thong and brought it to his nose, inhaling deeply. Jesus. His head fell forward at her heavenly fragrance. He struggled to take a full breath and maintain his control. No dice. His fingers crushed the flimsy silk. He wanted to bury his cock in her so badly, he wasn't certain he could go through with his plan to tempt her beyond reason.

Her heels clicked on the hardwood floor.

Looking over, he saw her shifting her weight from foot to foot. She'd moved to the far left to watch him, her curiosity taking her off the rug. He fought a smile at the way she'd reverted to form, covering her breasts with her right arm and hand, her cunt with the left. For protection from his neighbor's prying eyes or as an unconscious reaction to what he intended for her?

I'm going to show you how it feels to be truly captive, Adriana.

He suspected she knew what he planned, though not to the degree he had in mind. Nor would he warn her.

Content in the moment, he stared. Firelight changed the color of her skin from olive to a creamy caramel shade, enhancing her dramatic blue eyes. Long, black tresses trailed over her narrow shoulders. She looked as seductive as a dark-haired Venus in Botticelli's famous painting and as debased as an advertisement for an upscale Nevada brothel in a men's magazine.

Eyes on her, he approached, stopping at the cocktail table. He slung the blouse and tie over his right shoulder and curled his forefinger, gesturing her closer. At his side, she seemed to forget her nudity and vulnerability. Her hands rested on his tattoo. Warmer now, her soft palms did wicked things to his pecs and abs, causing the muscles to jerk on contact with her fingertips, which traced the design.

She spoke quietly, nearly a whisper. "When did you get it?"

During a drunken stupor, days after he'd learned Echo wasn't his. Pissed, hurt and tired of working eighteen-hour days, he'd decided to indulge himself in every way possible, which eventually led him to Zanes and, in a way, to tonight. "Years ago," he answered, "when I decided I liked being reckless."

Her eyes lifted to his then dropped back down to his hands. In his left, he held her wrists. With his right, he pulled the tie from his shoulder and wrapped it around them. Convinced she couldn't get free, he released her and knotted the tie. "On your knees, Adriana."

A flash of surprise registered on her face, though she didn't question. Nor did she resist. She sank to the rug so swiftly, he knew her legs were too weak to hold her and her body craved whatever he intended to give.

Nathan went to one knee. Her eyes darted to his pendulous cock and balls. Gently, he eased her onto her back, her bound arms above her head. Chin lifted, she watched him secure the ends of his tie to the leg of the cocktail table. The second time he pulled on the knot, making sure it wouldn't come loose, her blouse slipped from his shoulder, landing on her arm.

She made a sound halfway between the word "what" and a whimper, finally falling silent, not asking why he'd taken her blouse, simply watching, waiting.

With the garment back in his hands, he spread it on the rug to fold it into a wide rectangle.

Understanding swept across Adriana's face as to his intent. He reached the end of his task and watched her reaction. She blinked rapidly. Her face flamed with a rosy blush, bawdy and oddly virginal. He concentrated on the innocence. It, her mute dependence, bruised lips and the mascara smudges beneath her eyes stirred Nathan as few things had. Surprising affection battled with lust. Given his history with intimacy and love, he made certain to yield to his baser emotions. Draping the silk across her eyes, he lifted her head and pulled the fabric around to the back, tying it behind her right ear.

Her throat jerked with her swallow. Agitated, she tested the binding around her wrists. Unable to free them, her legs wavered. She took a halting breath and pulled her knees up. The narrow points of her high heels gouged the rug. The movement seemed to give her a measure of control.

It provided an image that squeezed the air from Nathan's lungs. With her heels digging in, she'd lifted her hips and unknowingly spread her thighs, presenting a picture of a woman, bound, blindfolded and powerless, ready to be mounted, taken by her master.

He gritted his teeth at the ache in his groin, what it needed right now even as he knew a quick fuck wouldn't satisfy. In the depths of his mind, he realized one, two or even three orgasms in quick succession would only whet his hunger for her. If he'd been able, he would have crawled inside of her body to become one with her mind, heart and blood. Crazy. He'd never been this way with another woman, not even Hayley during their early teenaged romance, and didn't care to examine where his intensity had come from. Nor would he succumb to it. He'd promised to show Adriana a weekend she'd never forget and by god, if it killed him to wait for an orgasm, he'd follow through.

Resolved, he took several deep breaths to calm down. It didn't work. However, he'd composed himself enough to trust his voice. Face close to hers, he murmured, "Can you see?"

She stopped sucking her bottom lip and moved her head from side to side.

He stared at her damp lip, resisting the urge to draw it into his mouth and hug her until neither of them could breathe. Shaking off his sentimentality, he countered, "I think you can." He pulled the scarf over her cheekbones and to the tip of her nose to block out any vision.

Instantly, she pulled her chin up in an effort to see. Unable to, her heels dug deeper into the carpet.

Nathan sat back on his heels, hands on his thighs as he gazed at her, his heart banging into his ribs. He pressed the base of his palms into his legs and dug his nails into the skin above his knees. The pain should have registered but didn't. Adriana captured his full attention. His forced silence affected her immediately. Her breasts trembled with her quickened breaths. A thin sheen of perspiration shone on her neck and upper chest. The thought of her salty, hot flesh beneath his mouth and hands made him woozy.

Watch the Lush Velvet Nights Trailer

Buy eBook from Ellora's Cave

Tina Donahue Website

AUTHOR GIVEAWAY TODAY
Leave a comment for your chance to win ONE of the following by Tina Donahue:
1. Adored – ebook
2. Deep, Dark, Delicious – ebook
3. Close to Perfect – mass market paperback
4. Bad Boys with Red Roses – trade paperback
5. Take My Breath Away – trade paperback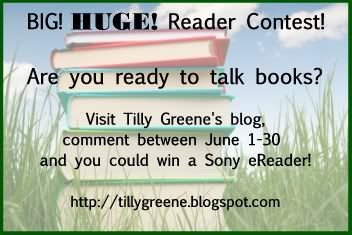 REMEMBER
Commenting and/or asking questions on an author's blog for the day will enter you into the Big Huge Reader Contest for a Pink Sony eReader or one of three boxes packed full of RT Booklovers Convention goodies. Unfortunately, due to the grand prize being an electronic and weight of the other three boxes, this contest is for US residents only.