Sexy Games by April Ash
Buy eBook from Ellora's Cave
Contemporary Erotic Romance

"Deliciously erotic!" - reviewed by Shayna, Joyfully Reviewed

Naughty Games Company Invitation: Test new games. Consenting adults. Male-female. Company penthouse. One week. Associates of NGC only.

Invitee employee STACY NEWMAN accepts. Betrayed by a past ex-fiancé, her goal is to concentrate on her career, sell a game idea to NGC, and open her own store.

Invitee SLOANE HOFFMAN, son of NGC's CEO, accepts. He knows his dad wants him to take over the company. He's been hurt and used by past lovers only after his money and what he could do for them.

Months earlier, they shared a night of passion but a panicked Sloane left without a word when Stacy inspired thoughts of "commitment" and "settling down". His disappearance left her heartsick.

As game partners they'll test games that require costumes, role-playing and sex. Undeniable lust and mutual desire quickly resurfaces, and they agree to a business-only venture. They choose games called "Hot Sands" (sheik and bride-to-be), "Teach Me" (nerdy professor and stripper/lap dancer) and "Royal Romps" (Lady and butler).

Spending time together offers chances to learn more about each other, fall in love, and share passionate sexual adventures. But, two misunderstandings occur, threatening to pull them apart once again, this time forever.

Watch the Sexy Games Trailer

Buy eBook from Ellora's Cave

April Ash Website

AUTHOR GIVEAWAY TODAY
June is National Candy month and I can't think of a better way to read a romance book than to have some wonderful chocolates nearby to munch on! Comment today and be entered to win a $10.00 gift card to either Russell Stover or Whitman's!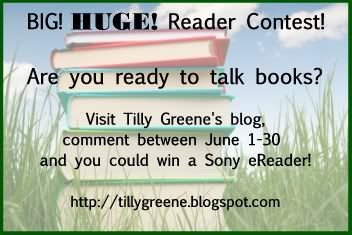 REMEMBER
Commenting and/or asking questions on an author's blog for the day will enter you into the Big Huge Reader Contest for a Pink Sony eReader or one of three boxes packed full of RT Booklovers Convention goodies. Unfortunately, due to the grand prize being an electronic and weight of the other three boxes, this contest is for US residents only.