Alex Rising by Dita Parker
Buy eBook from Ellora's Cave
Paranormal Erotic Romance/Menage

Wrote a book, take a look at that mantastic cover, about a wife, a husband and a third, a lover. The catch: hubby's dead, he now shares the third's head, a man who will share the marital bed.

Confused? So was Alex, coming to, feeling used. Tristan had to rewind, speak up and remind a spell saved his life, he wants back with his wife in the body of another, Alex, the lover.

Tragic? No, magic, the New Orleans kind. Two men living as one, a man loving for two. When they head home to NOLA, what will Lin do?

Alex is hot, he is, is he not, ready and willing to show Lin what he's got. Wrestle Tristan for power, in bed, in the shower, for a shot, a chance with his wife. But sharing, it's tough, when the going gets tough will sex and seduction be enough? Can three become one, have more than just fun, have a future together, a life?

A paranormal ménage to take on the adage that three is indeed a crowd. It's my first with EC, (fingers crossed, not my last!) of which I am quite proud.

I'm an author untried? To help you decide, you'll find deets at EC. They're not written in rhyme, yes, I know, it's a crime, but just think how hard that would be.

The book's name? Alex Rising, and hardly surprising, it's out from Ellora's Cave, click here to save dollars.

Should you own a Kindle, look-see. Own a Sony? Me neither. Should you win the reader, here's the place to be.

To do just that, drop your name in the hat. I wish you luck sublime. Come back every day (June's a reader's buffet!), now thank you all for your time.

My next book will be out I'm not sure when, I'll keep you all posted at Dita's Den.

Yours truly madly deeply,

Dita Parker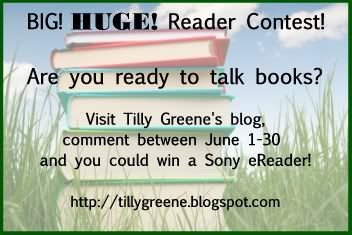 REMEMBER
Commenting and/or asking questions on an author's blog for the day will enter you into the Big Huge Reader Contest for a Pink Sony eReader or one of three boxes packed full of RT Booklovers Convention goodies. Unfortunately, due to the grand prize being an electronic and weight of the other three boxes, this contest is for US residents only.