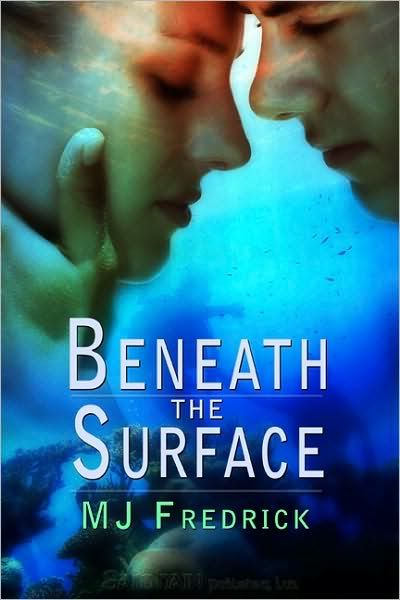 Beneath the Surface by MJ Fredrick
Published by Samhain Publishing
Buy Paperback from Amazon
Romantic Suspense

Adrian didn't wait for Toney and Jacob to tie the boat off before he leaped to the dock. He barely registered the vibration of the dock beneath his feet as he strode toward her.

"Adrian, I—"

He didn't let her finish. Damn, she was so pretty, even windblown, even with the flash of uncertainty he saw in her eyes. He took her face in his hands, stroked his thumb over her cheek and kissed her. Surprise had her tensing for a second, and he feared she might pull away. Instead, she relaxed, just a bit, and he came home.

She was as soft, as sexy as he remembered. Her taste hadn't changed, her mouth moved beneath his the same way, as if those three years had never passed.

He rubbed her hair, regretting the calluses on his fingers that snagged on her hair, her skin. Her fingers closed on his bare shoulders, her nails digging in briefly before sliding under the straps of his shirt, and he was lost. Dropping his hands to her hips, he drew her against him.

Slowly, it came to him where they were, why they were standing here, and he lifted his head to smile. "You came back."

She looked a little dazed, her mouth swollen, her eyes dark. She blinked, lowering her hands from his shoulders. "Adrian, I—"

"Come see what we found." He slid his hand down her arm to take her hand and guide her to the Miss M. She resisted at first, then followed him, trying to ignore how everyone else was watching them with interest.

What the hell had she done, coming here? Mallory swayed on the dock and watched Adrian beckon her. Once she'd reached home, she'd put her feelers out. The offers had come in fast and furious, but all she could think of was getting here to help Adrian. She waffled for a long time about how much help she'd give him. The cashier's check in her bag was the least she could do. Staying to help excavate was the most.

After that greeting, she didn't know how wise it was to stay, even as everything female inside her proclaimed they were ready to set up camp. Had he been so glad to see her? No, something in his eyes told her there was more. Something out there had gotten his juices flowing.

Something out there always did.

Buy Paperback from Amazon

MJ Fredrick Website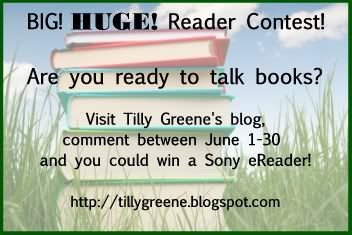 REMEMBER
Commenting and/or asking questions on an author's blog for the day will enter you into the Big Huge Reader Contest for a Pink Sony eReader or one of three boxes packed full of RT Booklovers Convention goodies. Unfortunately, due to the grand prize being an electronic and weight of the other three boxes, this contest is for US residents only.