Sexual Energy by Afton Locke
Buy eBook from Ellora's Cave
Futuristic Menage [m/m/f]

Planet Chromefield has always run on sexual energy, but due to a troubling affliction, all the men have lost their erections and all the women are insanely horny.

When virile astronaut Logan crash lands on the planet, he must agree to perform an impossible test to get home again—a test which puts him in the bed of sexy Alysa, who wants more independence and creative sex, despite the planet's chauvinistic mores, and her fiancé Dean—whose secret desire could cost him everything.

Dazzled by his lust for them both, Logan only agrees to give them his body, but the resulting three-way bond surpasses each of their sexual fantasies and thaws his solitary heart, which just might contain the key to saving the planet…if only they can convince him to stay.

An X-rated Excerpt from Sexual Energy (Unedited)

"Well, I want you to do it now," she said, tempting him by sliding her finger around her slick folds. "We need to recreate everything."

Her pussy did resemble a delectable candy treat but he just couldn't do it. He'd gone against Chromefield's mores enough already by rubbing syrup on a man's cock. If anyone every saw that, his career would be history. Thank goodness they always turned the surveillance cameras off before having sex.

"I'm sorry, I can't," he finally said. "What else did you two do?"

"I sucked syrup off Logan's cock," she said.

Dean hated how disappointed she sounded from his refusal to lick her. It flattered him she'd wanted him to do it, even though Logan already had. Maybe the other man really couldn't satisfy her completely. There was hope for their marriage yet.

"Now that I'd like to see," Dean said. "Suck his cock, sweetheart."

She bent over to reach it. As the head of Logan's penis slid into her mouth, Dean felt it all the way down to his balls. He imagined each flick of her tongue on him instead.

"Back your ass over here," Dean told her, "so I can rub your cunt while you do that."

He worked his finger into her pussy from behind, watching her beautiful ass squirm in pleasure while Dean fucked her mouth. Logan's cock made a loud, wet popping sound as she took it out of her mouth.

"I'm going to come soon," she said, breathless.

"Me too," Logan said, even more breathless. "Dean, I want you to finish it."

"I'm not going to suck your cock either," Dean said, even though he was dying to. Applying syrup with his hand was one thing. Oral sex was quite another.

"Use your hand then," Logan suggested.

Dean used one hand to rub Alysa's cunt and the other, with syrup, to stroke Logan's shaft, which was harder and hotter than it had been before.

Both Alysa and Logan came at the same time. Dean almost felt as if he were coming himself as he watched Logan shoot cum on her beautiful face and open mouth while her pussy clamped around his hand. She extended her tongue, catching almost every drop.

"You look so beautiful that way," Dean whispered, "with Logan's semen all over you. Come here."

Cum and syrup clung to her bottom lip, which was dark and slightly swollen from being pounded by Logan's vigorous thrusting. He pulled her close for a kiss, tasting sweet syrup and salty ejaculate. Something powerful took over him then as he kissed her lips and her face—a wild, starving man, licking and sucking the enticing flavors. The more cum and syrup he swallowed, the more he wanted.

He surrendered. Yes, he wanted men. Particularly this man and woman. He wanted to be fucked by both of them, over and over again. He could no longer deny it. But wanting and being able to have were two different things. This couldn't be.
Copyright © AFTON LOCKE, 2009

EXTRA GOODIES FROM AFTON LOCKE
Take a tour of Planet Chromefield, the world Afton built for Sexual Energy. There's even a quiz at the end.

Watch the Sexual Energy Trailer


Read the sequel about Jay and Lorna - FREE READ -
Peak Energy
.
Astrophysicist Dr. Jay Walters needs to find enough energy to launch and control a spaceship for Planet Chromefield's new space program. When sexy Lorna, the object of his fantasies, seduces him one day at lunch, he discovers what may be the greatest source of sexual energy between her shapely legs. His hunch is proven correct when he tests her energy during a private experiment, but when he instructs her to get as horny as she possibly can, she needs a little help from the doctor.
Buy eBook from
Ellora's Cave
Afton Locke
Website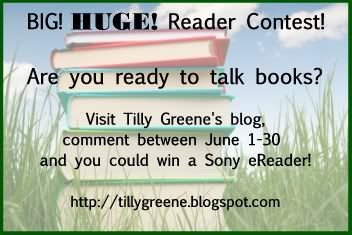 REMEMBER
Commenting and/or asking questions on an author's blog for the day will enter you into the
Big Huge Reader Contest
for a Pink Sony eReader or one of three boxes packed full of RT Booklovers Convention goodies. Unfortunately, due to the grand prize being an electronic and weight of the other three boxes, this contest is for US residents only.