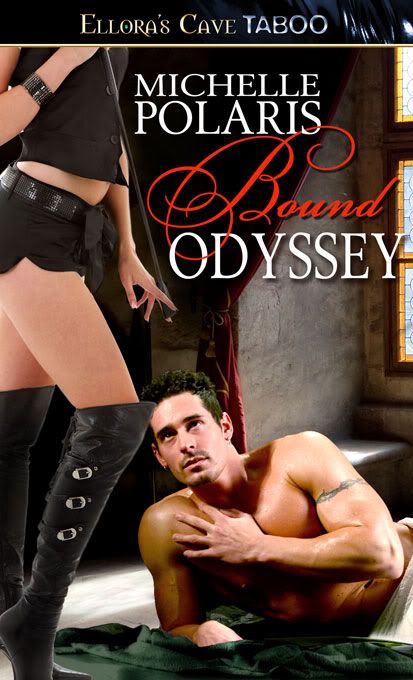 Bound Odyssey by Michelle Polaris
Buy eBook from Ellora's Cave
Erotic Romance/BDSM and Menage

5 Star review from Just Erotic Romance Reviews
4 Star review from RT Book Reviews magazine
Reviewer Top Pick at Night Owl Romance

The year is 2067 and Earth is self-destructing from environmental cataclysms. A portal to a new world is ripped open and refuge there is Earth's only hope. Enter Jace, cowboy diplomat, who is preparing for the negotiation of a lifetime. A sexually conflicted alpha male, he hates everything with a cock, especially himself. The last thing Jace expects is to fall in love with both a woman and a man.

His dark history presents the ultimate challenge to Mira and Roman, the sexual Dominant team hired to prepare Jace for the female-dominant culture of the new world. Tragedy has made Mira distrust her Mistress abilities. Survival is her priority, and she resists her deep attraction to Jace's haunted eyes and sculpted body.

Roman, however, falls hard and fast for Mira and Jace, ready to honor Mira as his Mistress and force Jace to recognize him as Master. Bound in one another's chains and pushed to the limits of arousal and pain, they must outrun sabotage and conspiracy to find salvation for their bodies, souls and hearts.


Excerpt

"Over here, Roman."

Sweet Lord, even the sound of Mira's everyday conversation had Roman fighting off an erection hard enough to make a Carolina fir tree proud. Her voice was smooth over a hot kick, like butter and jalapenos, and it drove him crazy. Had for the last two weeks since he'd met her. If their trainee didn't hurry up and skedaddle his way to the institute to begin the waltz Mira had planned for the three of them, he was pretty sure he was going to shoot himself to stop the misery.

Instead, he sauntered over to where Mira stood on a stepstool, examining a pair of leather cuffs dangling from a chain anchored into the ceiling. A pulley system allowed them to raise and lower the chain to different heights. Slowly, they'd put together the equipment needed for this job. Their suite was in an old, high-end hotel converted for the institute, a stone's throw from the state house in the heart of the new capitol. Top floor, probably to segregate them and their "shady" business from the other employees. Plus, the walls needed repainting, and the Persian carpet was well past its day. But the kitchenette came in handy. Lots of space in the main room too.

Mira fingered the leather, rubbing the grain between the pads of her digits with a frown on her gorgeous triangle-shaped face. She had her shining brown hair pulled back in a ponytail hanging down to the small of her back.

"What can I do for you, Darlin'?"

She looked down at him, her eyebrows lifting over her rich chocolate brown eyes at his greeting. "You do know I don't allow subs to call me by nicknames? You're tempting fate, Roman. That Smoky Mountain twang of yours, as lovely as it is, won't save you if I hear 'darling' out of that pretty mouth of yours once we're on the clock tomorrow."

"Of course, Mistress." He dipped his head but didn't hide his smirk. Not worth bothering. Mira saw through him easier than a hound dog spotted a hare hiding in the bush.

She dropped her gaze farther down to where his dick pressed tight against his jeans. Mira rolled her eyes at him and climbed those long legs down from the stool. She was five foot seven, above average height for a woman, and those inches were all leg. Curves in all the right places; a nice flare to her hips. Child-bearing hips, his folk called them. An added bonus. And wasn't he a son of a bitch to be thinking about having kids in this world. But he knew what he wanted. He was a man used to listening to his gut. And his gut had plenty to say about this woman.

As she descended, Roman automatically lifted a hand to grasp hers, helping her down the last steps.

"A gentleman." She nodded to his manners.

"My momma raised me right."

She perused him again, eyes taking in all of his blue-eyed, wavy blond-haired, six-foot height. "It seems she did." She angled her head in a motion toward the dangling leather. "Take a look at the cuffs." She gestured him up the stool.

He appreciated the hand-tooled leather, a fine scroll design of vines winding their way around the cherry-stained cuffs. The leather was thick but supple. And lined with fine lamb's wool. Mira brought a lot of the smaller equipment and tools from her private stock to the institute. That was not surprising. A Mistress or Master always invested in a variety of play items. That way, favorites were handy to work a slave at a moment's notice. What did surprise Roman was Mira's added hobby. She crafted the majority of the leather tools herself. How she laid her hands on the cured hide he hadn't gotten around to asking.

Roman looked more closely at the cuffs. There, on the left manacle, a crack down the entire length of the leather. Pretty uniform. Enough to have the restraint give way under pressure. Like the pressure of a sub hanging from it during training.

"This crack wasn't there yesterday."

"I know," she said.

He'd watched her compulsively check and recheck every piece of equipment in their suite. The institute provided them with supplies, but he and Mira put together everything. She hefted a mean hammer.

He examined the cuff again. "Someone's been in here."

He glanced down to where she stood frozen with eyes glazed. After a good thirty seconds, she shook out of it, reached to run her hand behind her neck in a quick massage. If he hadn't been above her, he might have missed seeing the slight tremble, gone a moment later. He didn't know what it was about, but that brief moment of vulnerability pushed his buttons, stirred a need to attack whatever ghost had his Mistress trembling. Because even though he'd known her a brief two weeks, he already knew this woman was his Mistress.

Roman was difficult to anger and he counted on that fact. But the violent protective urges he felt in Mira's presence, and the desire to wrap his arms around her curves, sink to his heels and offer worship, confirmed his suspicion. He'd acted as a Dom for too long. The relief of his reaction to Mira lapped through his body, the soothing waves of the ocean along Carolina's coast from his distant memory caressing his muscles, relaxing away his tension.

"Holy conspiracy, Batman," he said with his best Robin impression. The distraction worked.

Her head snapped up and her face brightened, shadows fleeing. "You son of a bitch. You got into my boxes." But she was smiling. It was like the sun had gone supernova in his chest and lit all the dark places.

"You sent me to find the extra buckles in your bedroom. I thought it was another box of supplies. But several hundred Batman comics?" He let out a long whistle. "Damn, Darlin', a collection of comics in mint condition like that nowadays is impressive. Not to mention worth a fortune."

She shrugged. "Most I got before the explosions. But I wouldn't sell. Not that anyone interested is left with money to buy."

He unhooked the cuffs from the chain and climbed down. He held out the leather. She hesitated but took them.

"Why collect the comics?" he asked.

"One of the signs I was a budding Domme was when I started fantasizing about Wonder Woman tying up Batman with her golden lasso, with me starring in the role of Amazon Princess. The Caped Crusader's had a soft spot in my heart since then."

He laughed. "I always imagined it was Batman tying up Robin. Thought Robin was the luckiest son of a gun around."

Her answering smile, eyes a chocolate sunrise treat, started his palms itching. He ached to trace the lids with his fingers, travel them down to outline her cheek and jawline. He had no doubt if he tried without permission he'd be down on the ground, screaming uncle. And the idea of that revved him almost as much. Roman might be a sexual switch, a person ready, willing and able to play either Dominant or submissive depending on the circumstance, but his body responded to her as all sub.

Buy eBook from Ellora's Cave

Michelle Polaris Website│Blog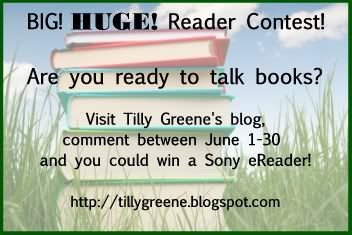 REMEMBER
Commenting and/or asking questions on an author's blog for the day will enter you into the Big Huge Reader Contest for a Pink Sony eReader or one of three boxes packed full of RT Booklovers Convention goodies. Unfortunately, due to the grand prize being an electronic and weight of the other three boxes, this contest is for US residents only.