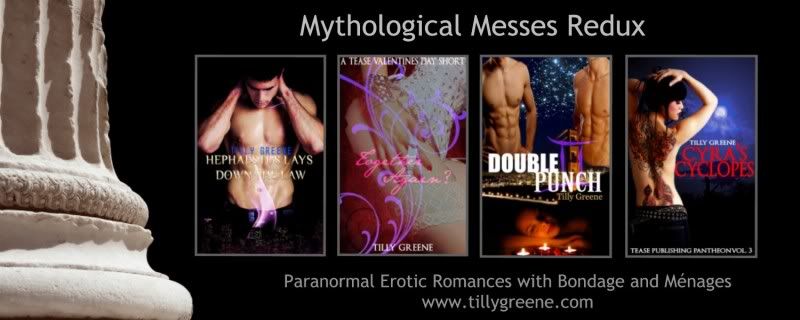 Sex is a major part of the erotic romance genre, it also happens to be a prevelent activity in Ancient Greek mythology, and I put the two together for the Mythological Messes Redux series. Recently I had a reader ask me how I decided who had what kind of sex and it wasn't something I'd ever really thought about. The simple answer would be that the characters tell me what they want to do in the sack and, to a certain extent, that's true, although I generally know who will do what before the characters are fully developed as their sexual proclivity is part of their personalities.

Let me back up and clarify something. Our discussion had started with us talking about the unconventional, non-vanilla [BDSM and Ménages] sex I sometimes write and how they should have a unique page on my website [I've since taken their advice and done this :-)]. So, back to that question, how I decide who has what type of sex, specifically when it came to the Ancient Greek mythological characters. While the gods, goddesses and immortals were all sexually active, that was generally as far as it went, but would they have stretched the repertoire in the boudoir if the opportunity had been presented?

Let's see, shall we?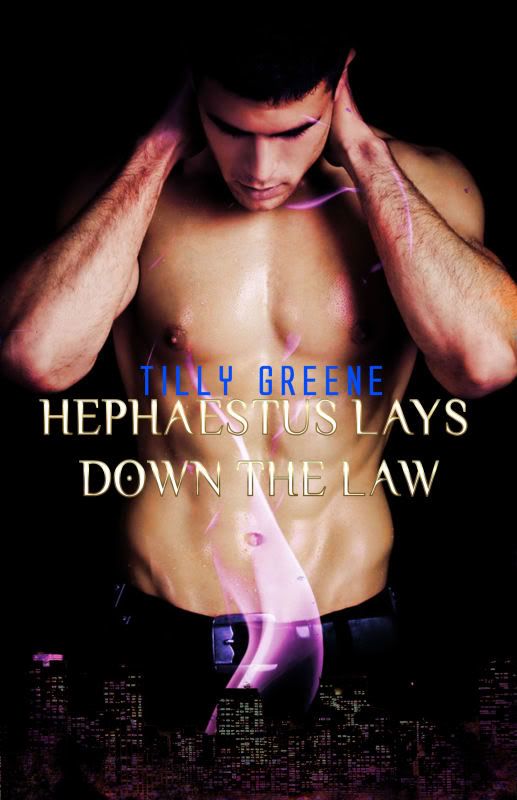 Hephaestus, god of the Forge, was hated, mistreated and ridiculed by his stepmother [Hera is just as often considered his mother], but he was a good man. He worked hard making important special items for the other Olympians. Things like thunderbolts for Zeus and Hermes' winged hat and shoes. Heph may find it necessary to walk with an aid, a stick, but the work he did meant he was totally buff. The god was big, with well defined muscles and handsome [at least I like to think so]. Wouldn't it be logical for a man who is physically challenged and yet quite comfortable with manipulating steel to be turned on by binding his lover for his focused attention?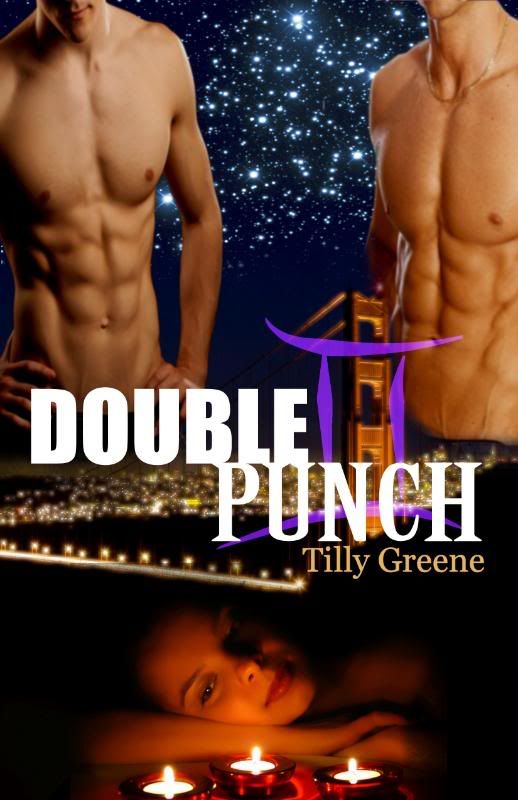 Then there's the twins who aren't really twins, Castor and Pollux, the Dioscuri [Sons of Zeus]. Brought up as brothers, they were very close and as grown men, became even better friends. They thought and acted as one. Both men were great horsemen, renowned hunters and the best of boxers who often sought to right a wrong - the brothers protected those who needed it most. On such a mission, Castor [mortal] lay dying when Pollux gave up his immortality to spend eternity with his brother, not completely dead, but existing as the Gemini constellation. Doesn't it make sense that these two men would fall in love with the same woman?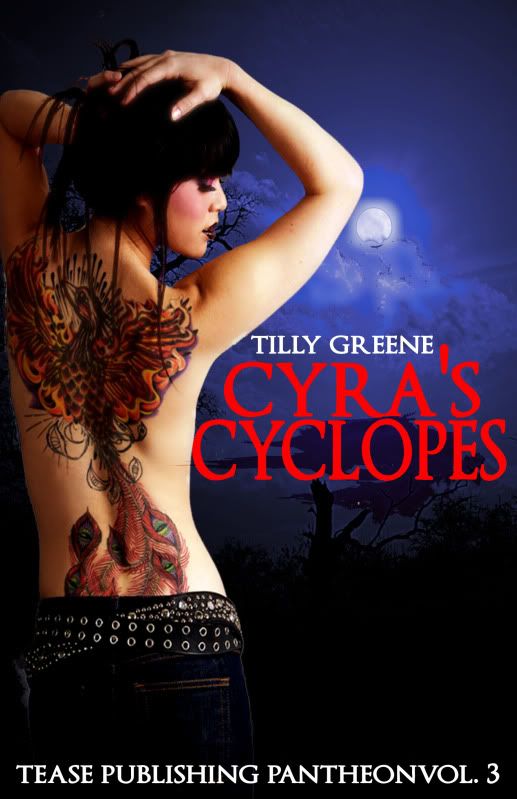 And then there's the feared, one-eyed Cyclopes monsters, they could never have a lover, could they? Agres, Steropes and Brontes have existed forever, are firmly set in their ways and see no reason to change. Humans are annoying and it's fine with them that cower in fear of the brothers. Work keeps them busy and it takes a great deal of attention to keep from sucumbing to their unique personifications. However, their job also happens to shape their bodies into delightfully strong forms, and the one eye, surrounded by long lashes, is gorgeous, especially when focused on a specific woman. Never believing love would never be theirs, it's believeable that these three outcasts would share the one who holds their hearts wants, right?

Bondage and ménages fit these three scenearios, the characters personalities, and could actually have happened if happiness for all had been the goal of the myths, only it wasn't. Lessons were definitely learned from those ancients texts, but in the 21st century, everyone - including the physically challenged, the might as well be dead, and the feared - is entitled to their happy ever after. Right? Of course they are! How they go about finding their pleasure is how the lovers express their deep emotions for each other and if that means tying them down or sharing them with another, so be it.

By the way, tags/labels denoting sub-genres are hints for a reader of what's in a book, and they're important, although there are problems. Most publishers set a limit for labels and that means there could be problems for readers who don't want to read specific sub-genres. Also, definition of the tags/labels differ, which adds further complications to picking out a book that suits a reader. And then, on top of all that, there's the fact that no two authors write sub-genres in the same way. My advice is twofold. First, when it comes to sub-genres [mc, bdsm, menage, rubenesque, etc.] be adventurous, and set aside the "I don't read...". And then I suggest knowing the authors and how they write. Do this by visiting their websites, blogs, tweet them a query, because you might be missing a great book because of the "I don't read..." limits.

So, that said, for me, when it comes to BDSM and D/s, I don't include pain or humiliation in my books/ebooks - just pleasureable fun and games that all the characters involved want. And, when it comes to menages, what can I say other than they are not orgies, they fit.

Other books of mine where BDSM and Ménages take place:
Come, Sweet Creature [bondage and D/s]
Extreme Speed, Total Control [one scene ménage a trois]
An Invitation to the World: Russia and New Zealand [D/s and ménage a trois]
The Leather Bride [bondage]
Zandia [bondage and exhibitionism]
Taming Marie Antoinette [bondage, D/s and ménage a trois]
Ride 'em [bondage, D/s and ménage]
The Gilded Cage [bondage and D/s]
Highland Heat [bondage]
Call Me Lucifer [bondage and D/s]
My Angel [bondage]

and...

Mythological Messes Redux series by Tilly Greene
Hephaestus Lays Down the Law [bondage] - (ebook) ARe│Fictionwise and (paperback) Amazon│BN│your local independent bookshop
Together Again? - ARe
Double Punch [ménage a trois] - (ebook) ARe│Fictionwise and (paperback) Amazon│BN
Cyra's Cyclopes [ménage] - ARe│Fictionwise

Tilly Greene Website│Blog│Facebook│Twitter

AUTHOR GIVEAWAY TODAY
Tell me if you think mythological figures would have practiced kinky sex if it had been around back then and you're entered to win a gift certificate to All Romance eBooks [ARe]!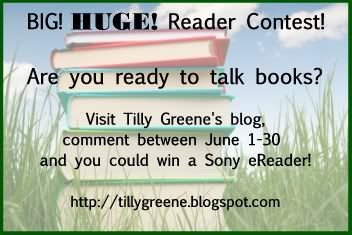 REMEMBER
Commenting and/or asking questions on an author's blog for the day will enter you into the Big Huge Reader Contest for a Pink Sony eReader or one of three boxes packed full of RT Booklovers Convention goodies. Unfortunately, due to the grand prize being an electronic and weight of the other three boxes, this contest is for US residents only.